For the past 25 years, digital advertising has been lauded for its ability to create targeted ads and track results to improve campaigns. Traditional broadcast TV, on the other hand, is generally used for its ability to reach more people. Its programming and provision of intense ad experience made up for its lack of ad targeting and measurement.

If you think about it, the primary strength of digital advertising lies heavily in third-party cookies. With its imminent phase-out, digital marketers are now looking at the power of television. They need first-party data. They need to highlight the use of working with media and measurement partners. This entire ecosystem can allow them to develop the targeted ads they are used to making and effectively target their audience. And this is where connected TV or CTV comes in.
Ways for Scaling CTV Offerings
The power that CTV has immensely grown in the past year. Its potential has long been regarded as the way to the future of targeted advertising. However, the past year has been critical in pushing the maturity of CTV. A Nielsen study for the third quarter of 2020 showed increased CTV access because of the ongoing lockdowns and travel restrictions. As much as 92% of individuals aged 18-49 years old have direct access to CTV, and 56% of them spend over 12 minutes streaming.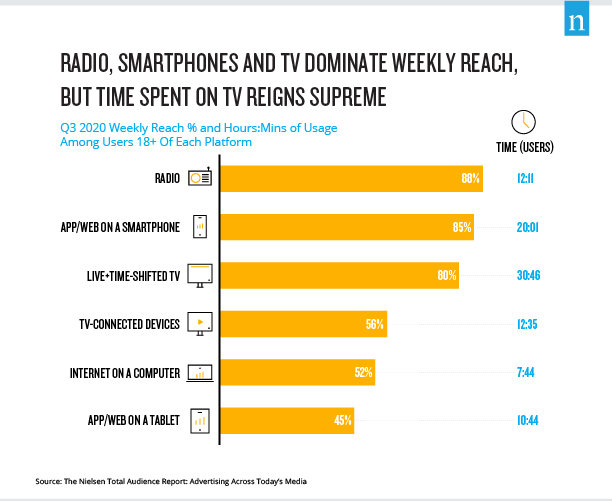 CTV has never relied on cookies. With these numbers alone, one can surmise that scaling CTV is plausible without the use of cookies. In the absence of cookies, scaling CTV will be palpable more than ever. Here's how scaling CTV can work for advertisers.
1. Target Audience
With CTV, advertisers have access to first-party data, which they can use to develop targeted ads. They can use existing third-party information, align them with advertiser audience data, and eventually match them with the proprietary data available through the device ID. Through this wealth of resources, it's going to be easy for advertisers to look for and communicate with their audience as they scale their offerings.
2. Provide Better User Insight
Another way advertisers can drive growth is by getting insightful data about how their target audience is streaming their content. This way, advertisers can prevent spillage. Serving too many ads when there are only limited people interested in the offering. Buying only enough ads can be a cost-effective measure. Plus, it also contributes to the increased customer experience over the platform.
3. Accurate Measurement of Ad Impact
Measuring ad impact is a critical aspect for advertisers. They have to see whether their ads are generating sales. Once they can measure advertising impact and match them with user data, they can come up with an unparalleled recipe for scaling.


With the rise of the Internet, many have predicted television advertising to die a painful death because of its lack of better targeting and accurate measurement. However, with how things are looking now, it has become a plot twist that digital advertisers need to wrap their heads around. Are you considering scaling your CTV offerings? Let us know how we can help you. Connect with our experts now and explore the market of monetization.