The ad tech industry is ever-changing. More recently, it would be hard to find an industry analysis without the mere mention of walled gardens. For many who may not know, a walled garden is any type of closed ecosystem where the provider retains control of the content, applications, and hardware.

A more concrete example is Apple's use of a lightning connector and decision to drop the 3.55 headphone jack. In this case, the company's move has forced its consumers to use its proprietary product, effectively locking them within their "walled garden."
The Death of Third-Party Cookies
In the early days of digital advertising, two names have gained prominence—Meta (formerly Facebook) and Google. These two companies have generated a combined ad revenue of more than $200 billion in 2019 alone, effectively surpassing the ad earnings of all other ad tech players in the industry.

How did the two tech giants do it?

Both have a significant hold on their users. Many have used their Google and Meta accounts on more than one device, leading the companies to harvest more targeted data, resulting in higher accuracy in attribution data. Similarly, Google and Meta use first-party user data, giving them a tremendous advantage in the death of third-party cookies. If you factor in the number of users these two platforms have, it makes sense that they can increase their reach even more.

Amazon is set to join the ranks as the company has reported an increase in the digital ad market share, showing over 52.5% year-over-year growth in 2020. Their influence isn't one to be ignored. Despite entering late in the competition, the e-Commerce giant snagged a good ranking.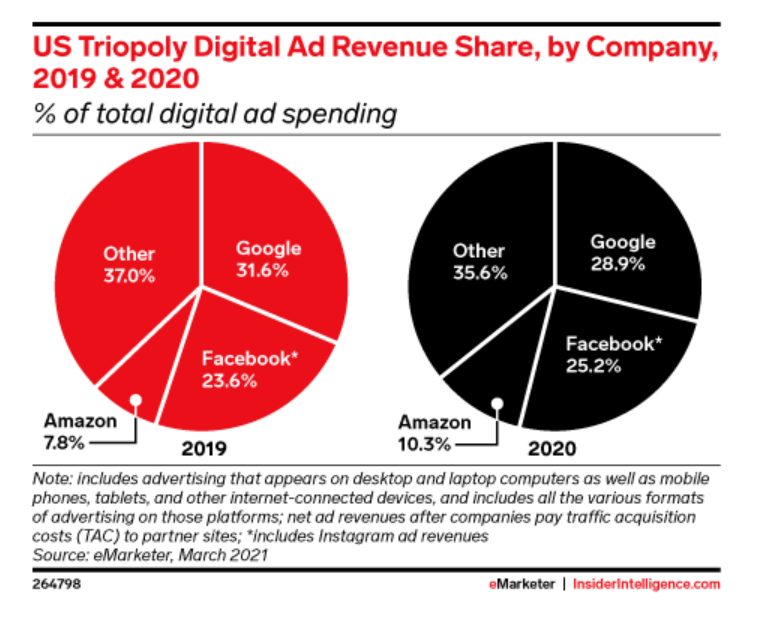 Image Source: eMarketer, 2021

Notably, Amazon's digital ad presence is mainly because of its significant reach among online consumers. This is where Amazon has the edge over Google.

"For advertisers with goods to sell in the marketplace, Amazon ads were a key performance lever throughout 2020," said Nicole Perrin, eMarketer Insider Intelligence principal analyst. She added, "Amazon advertising has long been a must for marketplace participants, and that hasn't really changed—though more brands and retailers are considering Amazon from an e-Commerce perspective because of the pandemic."

Meanwhile, Jungle Scout reported that 74% of online buyers would browse and source information about products on Amazon, not Google.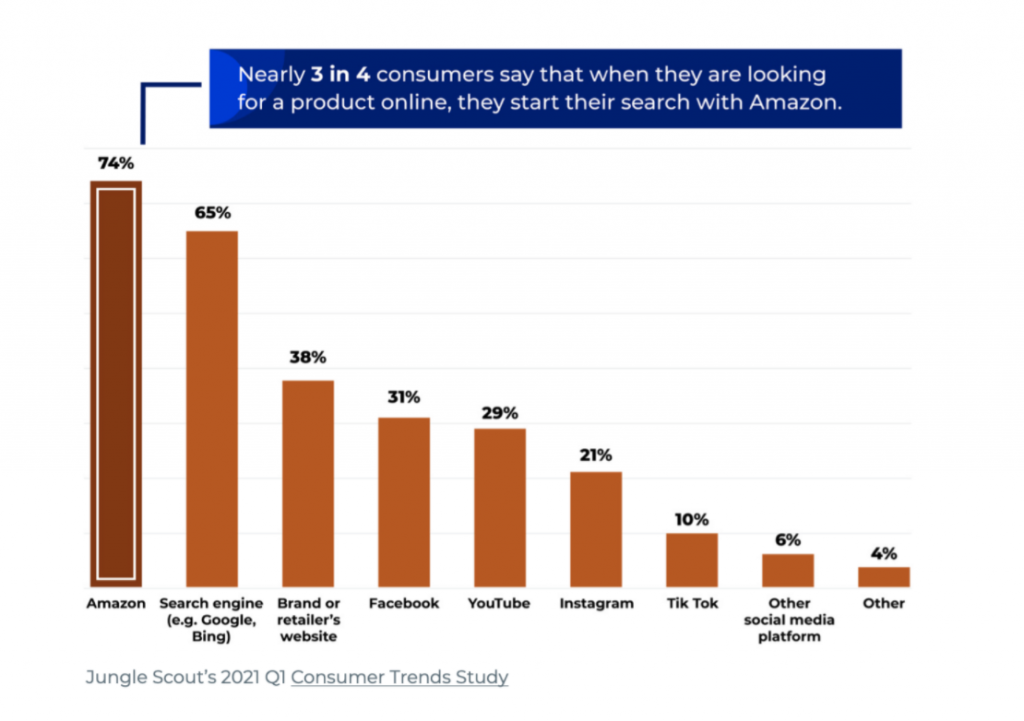 Image Source: Jungle Scout, 2021

The changes in the digital ad landscape have shifted significant ad budgets to point towards walled gardens to allow them to curate scalable targeted campaigns, and this is precisely what the Triopoly offers. Soon, the advertising landscape will rely mainly on walled gardens and the use of first-party data.
Navigating Walled Gardens
With the success of these ad giants, it's no longer surprising to see more and more ad tech companies set up walled gardens. Here's how you can navigate and, hopefully, get a more significant share of the ad market spending:
1. Focus on first-party data
Marketers who want to harvest first-party data should prioritize giving value in exchange for consumer data. For publishers, in walled-garden scenarios, first-party data is even more unique and valuable. You can consider exclusive access to your data as another means to monetize your product.

2. Foster trustworthy partnerships
Ad fraud is prevalent, and marketers must ensure their partnerships with publishers and other marketers will not compromise data. At the same time, publishers can consider working with reliable monetization partners to help them get the most of value out of their user data. After all, it's incredibly challenging to build and manage your own walled gardens, and connecting with high-quality advertisers may not be easily achievable without the proper resources. That's why publishers need to find a balance between securing their data and consumer touchpoints and letting that data remain accessible to advertisers.
3. Employ transparency
Walled gardens are not a new concept. Previously, walled gardens have been shunned for their lack of transparency. Therefore, for the concept to work this time around, there must be greater focus on providing unbiased measurement and attribution. This calls for all ad tech industry players to ensure everyone actively follows industry standards. For publishers, this means implementing industry solutions set by the IAB, such as ads.text, app-ads.text, sellers.json, and ads.cert. For advertisers, this means absolutely refusing to work with bad actors.
The growth and success of marketing begin with how deeply you know the consumer, meaning getting information about every context of their journey. Harvesting this data is difficult, and looking at advertising within and beyond the walled garden is even more complex. This is where building and nurturing relationships with customers comes in handy.

Connect with us to learn more about how AlgoriX can help you navigate the complicated world of walled gardens.